YPL068C
Share your knowledge...Edit this entry!
| | |
| --- | --- |
| Systematic name | YPL068C |
| Gene name | |
| Aliases | |
| Feature type | ORF, Uncharacterized |
| Coordinates | Chr XVI:425096..424215 |
| Primary SGDID | S000005989 |

Description of YPL068C: Protein of unknown function; green fluorescent protein (GFP)-fusion protein localizes to the nucleus and is induced in response to the DNA-damaging agent MMS[1][2]





Community Commentary
About Community Commentary. Please share your knowledge!

This gene is part of the UW-Stout Orphan Gene Project. Learn more here.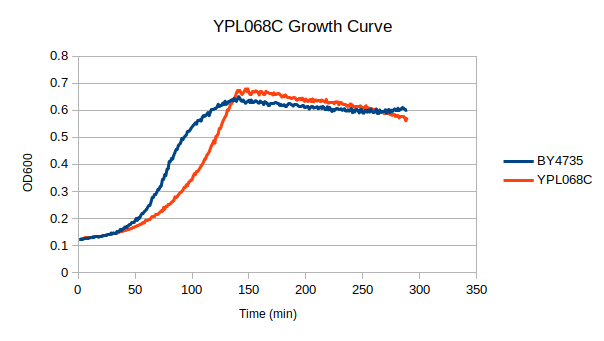 In a BY4735 background, knocking out YPL068C seems to have a moderate effect on growth rate in log-phase. In this assay, the BY4735 strain's doubling time was 124 minutes, while the YPL068C knock-out strain's doubling time was 209 minutes.
YPL068C is more sensitive than BY4735(wild) given that there is less colonizes present when under the same stress.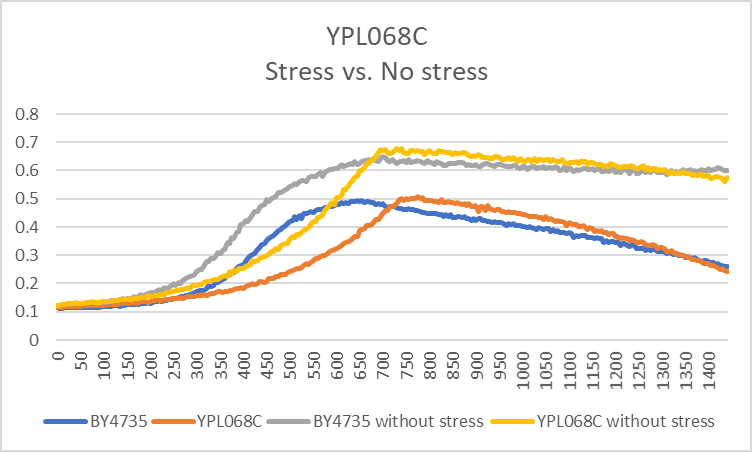 Heat Shock Results
References
See Help:References on how to add references
↑ Huh WK, et al. (2003) Global analysis of protein localization in budding yeast. Nature 425(6959):686-91 SGD PMID 14562095
See Help:Categories on how to add the wiki page for this gene to a Category