YMR090W
Share your knowledge...Edit this entry!
| | |
| --- | --- |
| Systematic name | YMR090W |
| Gene name | |
| Aliases | |
| Feature type | ORF, Uncharacterized |
| Coordinates | Chr XIII:449245..449928 |
| Primary SGDID | S000004696 |

Description of YMR090W: Putative protein of unknown function with similarity to DTDP-glucose 4,6-dehydratases; GFP-fusion protein localizes to the cytoplasm; up-regulated in response to the fungicide mancozeb; not essential for viability[1][2][3]





Community Commentary
About Community Commentary. Please share your knowledge!

DNA and RNA Details
Other DNA and RNA Details
Other Topic: expression
Specifically higher expression in nitrogen limited chemostat cultures versus nitrogen excess. [4] [5]
---
This gene is part of the UW-Stout Orphan Gene Project. Learn more here.

In a BY4735 background, knocking out YMR090W seems to have a moderate effect on growth rate in log-phase. In this assay, the BY4735 strain's doubling time was 124 minutes, while the YMR090W knock-out strain's doubling time was 208 minutes.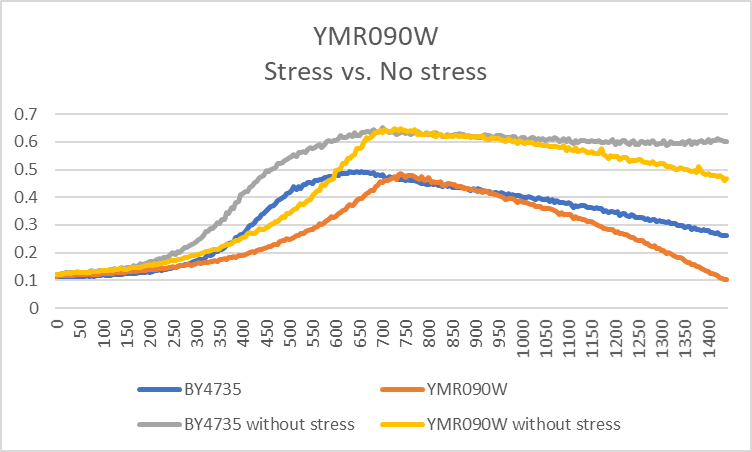 300 px
YPL068C is more sensitive than YMR090W given that there is less colonizes present when under the same stress.
References
See Help:References on how to add references
See Help:Categories on how to add the wiki page for this gene to a Category