YEL035C
Share your knowledge...Edit this entry!
| | |
| --- | --- |
| Systematic name | YEL035C |
| Gene name | UTR5 |
| Aliases | |
| Feature type | ORF, Uncharacterized |
| Coordinates | Chr V:85545..85045 |
| Primary SGDID | S000000761 |

Description of YEL035C: Protein of unknown function; transcription may be regulated by Gcr1p; essential for growth under standard (aerobic) conditions but not under anaerobic conditions[1][2]





Community Commentary
About Community Commentary. Please share your knowledge!

This gene is part of the UW-Stout Orphan Gene Project. Learn more here.

Knocking out the YGL035C seems to have no effect on growth after incubating for 5 days on the Nitrogen omitted media.
YEL035C is more sensitive than BY4735(wild) given that there is less colonizes present when under the same stress.
In a BY4735 background, knocking out YEL035C seems to have a moderate effect on growth rate in log-phase in YPD media. In this assay, the BY4735 strain's doubling time was 124 minutes, while the YEL035C knock-out strain's doubling time was 220 minutes.
G-418 Stress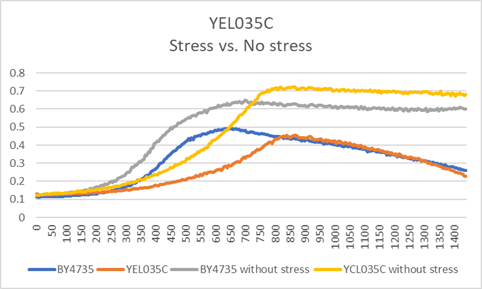 Methanol sensitivity
The wild type strain had a little difference in the doubling time when we added methanol, but the methanol killed all of the cells in the YEL035c strain. [[1]]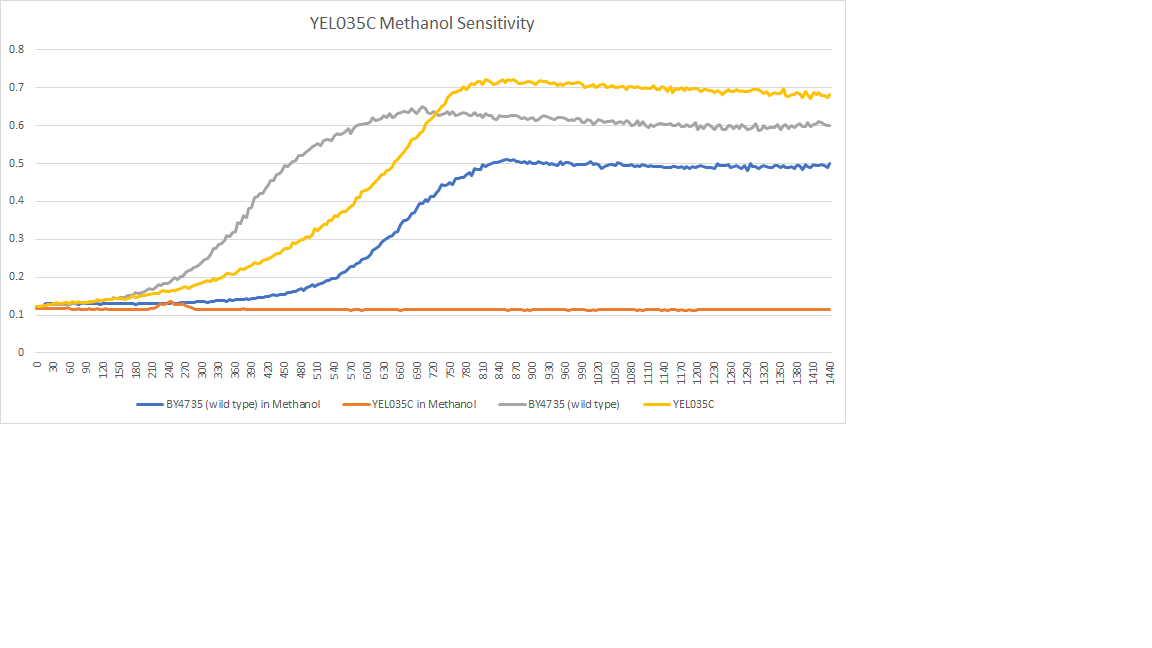 References
See Help:References on how to add references
↑ Lopez MC and Baker HV (2000) Understanding the growth phenotype of the yeast gcr1 mutant in terms of global genomic expression patterns. J Bacteriol 182(17):4970-8 SGD PMID 10940042
See Help:Categories on how to add the wiki page for this gene to a Category