YCR100C
Share your knowledge...Edit this entry!
| | |
| --- | --- |
| Systematic name | YCR100C |
| Gene name | |
| Aliases | |
| Feature type | ORF, Uncharacterized |
| Coordinates | Chr III:302221..301271 |
| Primary SGDID | S000000697 |

Description of YCR100C: Putative protein of unknown function[1]





Community Commentary
About Community Commentary. Please share your knowledge!

This gene is part of the UW-Stout Orphan Gene Project. Learn more here.

Knocking out the YCR100C seems to have no effect on growth after incubating for 5 days on the Nitrogen omitted media.
In a BY4735 background, knocking out YCR100C seems to have a moderate effect on growth rate in log-phase. In this assay, the BY4735 strain's doubling time was 124 minutes, while the YCR100C knock-out strain's doubling time was 219 minutes.
YCR100C is more sensitive than BY4735(wild) given that there is less colonizes present when under the same stress.
Methanol Sensitivity
The wild type had a doubling time of 150 min, the YCR100c had a doubling time of 350 min. The methanol slowed the yeast down and that means this strain is more sensitive.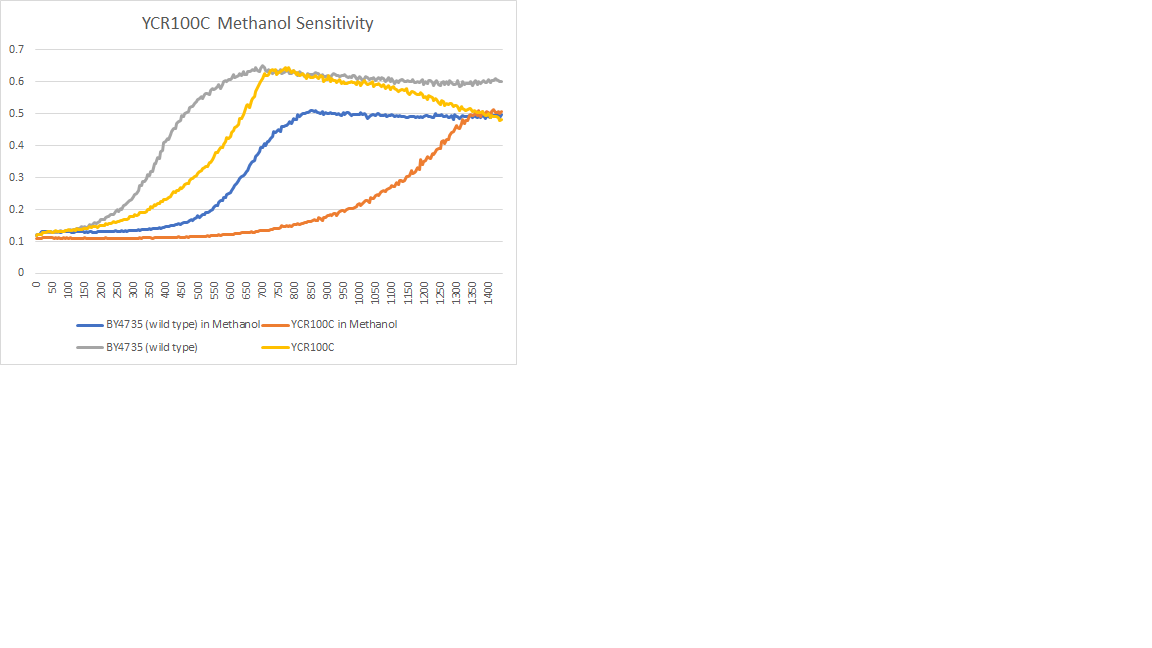 Stressing with Hydroxyurea
Hydroxyurea Protocl -The wild type strain had only a small difference in doubling time when stressed with Hydroxyurea;YCR100C showed about a 20 minute difference in doubling time when stressed with hydroxyurea, indicating that this gene most likely does not play a vital role in DNA replication.
References
See Help:References on how to add references
See Help:Categories on how to add the wiki page for this gene to a Category