Difference between revisions of "SGD Newsletter, Fall 2018"
Line 200:
Line 200:
 

May 22 - 24, 2019<br>

 

May 22 - 24, 2019<br>

 
 
−

<b>[http://conferences.genetics-gsa.org/tagc/2020/index The Allied Genetics Conference 2020 (TAGC)]</b><br>

+

<b>[http://conferences.genetics-gsa.org/tagc/2020/index The Allied Genetics Conference (TAGC )]</b><br>

 

Gaylord National Resort & Convention Center, Metro Washington, DC, UCA<br>

 

Gaylord National Resort & Convention Center, Metro Washington, DC, UCA<br>

 

April 22 – 26, 2020<br>

 

April 22 – 26, 2020<br>
---
Revision as of 07:13, 4 October 2018
About this newsletter:

This is the Fall 2018 issue of the SGD newsletter. The goal of this newsletter is to inform our users about new features in SGD and to foster communication within the yeast community.
25th Anniversary of SGD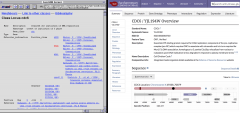 SGD is proud to celebrate our 25th anniversary! Initiating in 1993 with AceDB and later launching as a website in 1994, SGD is among the oldest biological resources on the web. The SGD website started with the basics–just check out the old CDC6 locus page! In the decades since, SGD has grown to become the premier genetics and genomics resource for S. cerevisiae.

We wish to extend a big thank you for helping us make these past decades of service to the yeast community possible. #APOYG!




SGD at Yeast Genetics Meeting 2018
From August 22-26, 2018, the SGD team was out in full force at the Yeast Genetics Meeting in Stanford, CA. Here are some of the highlights from this awesome meeting:
Mike Cherry Receives Ira Herskowitz Award
For his outstanding contributions in the field of yeast research in the last few decades, Mike Cherry, PI of SGD, received the Ira Herskowitz Award. Congratulations Mike!
Workshop: Getting More out of SGD
At our workshop, we talked about new features, cool tools, and some of the many ways you can access data at SGD to support your research. Check out the links below to download presentations given by SGD staff:
Posters
Below is a collection of posters SGD staff presented at the Yeast Genetics Meeting. Click on any of the links below to download the poster.
Fun Stuff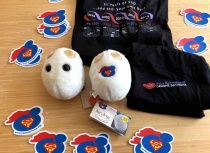 A big thank you to all who stopped by our booth! Visitors received all sorts of informational handouts and fun prizes, such as a SuperBud yeast toy. Many were also up to the challenge of completing our Yeast Genetics Crossword puzzle… and to the victors went the spoils of an awesome 25th anniversary SGD T-shirt!


We are always interested in answering questions and meeting the researchers and users that make up our community. We appreciate hearing your thoughts and all the suggestions you shared with us. For those of you who couldn't make it or didn't get a chance to stop by our booth, please feel free to share any comments or suggestions by contacting us!

If you would like to see tweets from the conference, search #Yeast18 on Twitter.
SGD API Examples
Did you know that SGD has a collection of python scripts which demonstrate how to access data from the SGD API?
Click on the image shown at the left for some quick examples, or view the entire collection at our GitHub repository: https://github.com/yeastgenome/sgd_api_examples.
Disease Data Now Available
In our effort to promote the use of yeast as a catalyst for biomedical research, SGD has recently released new our Disease Pages. Each disease page corresponds to a Disease Ontology term, such as cancer, and lists out all yeast genes that have a human homolog implicated in the disease.
Yeast genes with human homologs implicated in disease will also have a new Disease Summary tab (example: CCC2). All associated diseases are shown, along with a network diagram that relates yeast genes, their human homologs, and the diseases associated with the human homologs.
For more information, be sure to check out our Disease Ontology help page. Check out the new pages, and be sure to let us know if you have any questions or comments!
Complex Pages Now Live

In addition to the new Disease data described above, SGD has also released our new Complex pages! Complex pages (example: GAL3-GAL80 complex provide manually curated information about the complex as well as helpful links and diagrams. Information contained within our Complex pages includes:
Manually curated summaries of the complex's function and biology
A list of all subunits and other complex participants
A Complex Diagram that shows the physical interactions between each subunit
Gene Ontology (GO) terms annotated to the complex
Images of complex structure from the Protein Data Bank, if available
A network diagram that shows how the complex relates to other complexes in terms of function and shared subunits

Complex pages can be accessed by running a search for the complex, or by visiting the gene pages of its subunits. For example, to visit the GAL3-GAL80 complex page, simply run a search for "GAL3-GAL80" and click on the Complexes category. Or, go to the GAL3 or GAL80 gene page and locate the Complex section.
Be sure to check out the page for your favorite complex, and let us know if you have any feedback or questions.
Website Updates
You may have noticed that a lot of SGD tools and features have been getting big updates. Here are some of the latest updates you can try out and explore:
New and Improved Gene Sequence Resources
SGD's Gene/Sequence Resources (GSR) tool is a great way to figure out which tools at SGD can help you get information on the yeast genome. Given a chromosomal region, or raw DNA/protein sequence, GSR retrieves a list of sequence analysis tools, options for accessing biological information, and table/map displays. We've recently updated Gene/Sequence Resources to expand its search capabilities and provide more options for downloading, analyzing, and comparing sequences from different S. cerevisiae strains. New features in Gene/Sequence Resources include:
Options to select up to 11 different yeast strains for gene searches and sequence downloading
Ability to search for multiple genes at a time
Sequence alignment/variation tools such as Variant Viewer
Convenient, automatic loading of your sequence/gene of interest into other tools at SGD
Primer Design Update
We have also updated our Primer Design tool to be based on the widely-used Primer3 package. It's easy to use the new Primer Design. All you need to specify is the following:
A yeast gene name or DNA sequence of your choosing
Optional parameters: primer length, GC content, melting temperature, and annealing. SGD has default values pre-set for these parameters, which you can change at any time.
For more information, be sure to check out the Primer Design help page.
Variant Information in Sequence Tab
On the Sequence summary tab for your favorite gene, we've added a new feature that lets you compare gene sequence variants between twelve commonly used S. cerevisiae strains. The Variants graph, derived from our Variant Viewer tool, depicts all nucleotide or amino acid changes relative to strain S288C in an easy-to-read format. To find this information for your favorite gene, go to its gene summary page and click on the "Sequence" tab. The feature will be displayed in the Variants section (example: ECM22 Sequence summary tab)
Upgraded GO Term Finder
When you've got a list of genes and want to figure out how all the genes relate to each other in terms of their molecular functions, biological processes, or cellular components, SGD's GO Term Finder is the place to go. We've recently upgraded our GO Term Finder to be much faster and more flexible than before. Give our upgraded GO Term Finder a spin and let us know if you have any feedback!
Research Spotlight (Blog posts)
In case you missed them, here are some of the most popular Research Spotlights posted on our blog lately:
What else have we been up to lately?

You may have seen SGD representatives at the following courses:


Senior Biocuration Scientist Rob Nash presented a tutorial at the Yeast Genetics and Genomics course at CSHL in late July. He demonstrated the use of YeastMine and how to navigate through SGD's website.
Upcoming Meetings
EMBO Workshop on Experimental Approaches to Evolution and Ecology Using Yeast and Other Model Systems
Heidelberg, Germany
October 17 - 20, 2018

7th International Yeast 2.0 and Synthetic Genomes Conference
Sydney, NSW, Australia
November 26 - 28, 2018

30th Fungal Genetics Conference
Asilomar Conference Grounds, Pacific Grove, CA, USA
March 12 - 17, 2019

14th Yeast Lipid Conference - YLC 2019
Ljubljana, Slovenia
May 22 - 24, 2019

The Allied Genetics Conference (TAGC 2020)
Gaylord National Resort & Convention Center, Metro Washington, DC, UCA
April 22 – 26, 2020