UW Stout/Cycloheximide FA19
Protocol Finding Correct Dilution of Cycloheximide
Materials List
Wild type yeast (control)
Cycloheximide
Sterile H2O
96 well plate
Plate Micro Readers
Our yeast cells
Equipment
Micropipettes
Incubator set to 30 degrees Celsius
New Brunswick TC-7 Tissue Culture Roller Drum
Molecular Devices SpectraMax Plus 384 Microplate Reader
Protocol
Make a .001 solution
Label all wells being used
Enter in 50 Microliters of wild type yeast into each well
Then enter in each dilution mixture 1 for each well
Add 1 microliter of .001 solution Cycloheximide in 49 microliters H2O
Add 5 microliters of solution .001 Cycloheximide in 45 microliters H2O
Add 1 microliters of solution .01 Cycloheximide in 49 microliters H2O
Add 5 microliters of solution .01 Cycloheximide in 45 microliters H2O
Add 10 microliters of solution .01 Cycloheximide in 40 microliters H2O
Add 5 microliters of solution 1 Cycloheximide in 45 microlitersH2O
Add 10 microliters of solution 1 Cycloheximide in 40 microliters H2O
Add 15 microliters of solution 1 Cycloheximide in 35 microliters H2O
Add 25 microliters of solution 1 Cycloheximide in 25 microliters H2O
Add 35 microliters of solution 1 Cycloheximide in 15 microliters H2O
Add 50 microliters of solution 1 Cycloheximide in 0 microliters H2O
Control is just 50 microliters water
Incubate in Microplate reader for 6-8hrs at 30 degrees C
Collect data of which yeast cells did not thrive, but did not die, and find the optimal percentage of diluted cycloheximide
The data we found was that well two worked the best for optimal stressed induced to the yeast cells. Add 5 microliters of solution of .001 cycloheximide in 49 microliters sterile H20. with 45 microliters of water and mix that with the 11 yeast strands.
This is the data of the protocol and how we found that well two was the best for this experiment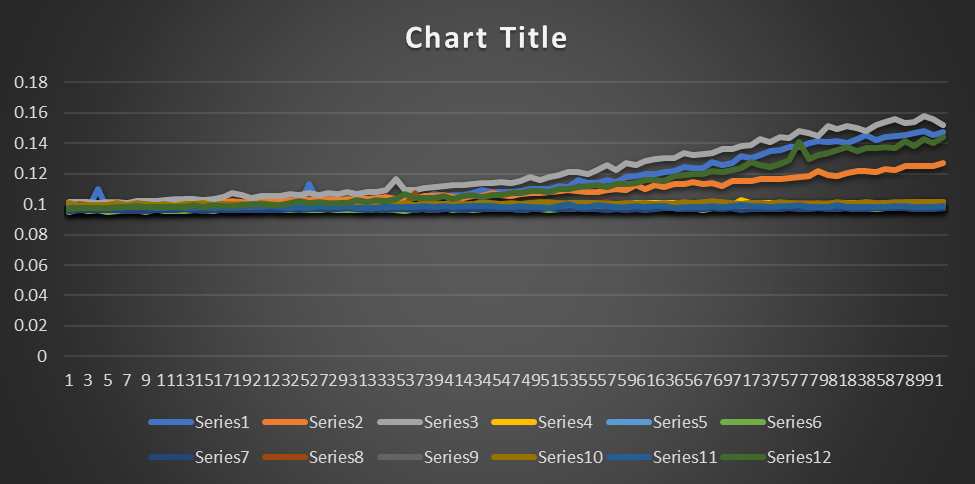 As you can see from above only four solutions of cycloheximide allowed the yeast to survive those being well 1,2,3, and 12. This data was very important because we needed a solution that didn't fully kill the yeast but disabled it and the well that did that the best was well two. Which disabled the yeast at the optimal percentage.